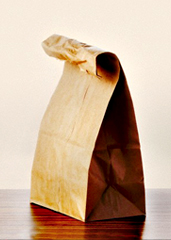 It's Friday.
You've spent all week go-getting.
Now it's time for things to come to you.
Let's start with all the ingredients for a dry martini...
Here to help:
Deliver Now
, the on-demand delivery service from the errand-running masters at TaskRabbit, at your service as we speak.
Imagine having a delivery guy at every restaurant, dry cleaner, wine shop and café in the city. That's this. What that means: you'll never have to leave the office to get a Deli Board Boca sandwich (or the essentials for a meticulously stocked bar) again.
Instead, you'll call up this iPhone app, tap the scooter-driving girl on the task wheel and complete your delivery request—what to pick up, when and where to deliver it. Then, a citizen courier is dispatched within a minute of your request. You'll be able to stay in touch throughout the process via the app—up to and including tracking your courier's progress via the GPS-enabled map.
You're on your own for placing bets.