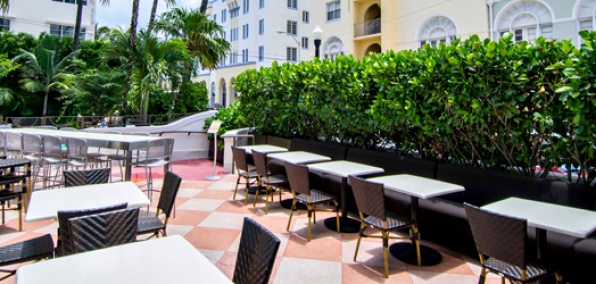 We hate to put a damper on your weekend.
So we won't.
Just get out there and have some fun. Swim to Havana. Watch the sun come up with a go-go dancer. Wrestle an aging crocodile.
Because on Monday, we've staked out a new sanctuary where you can lick your wounds and all will be right in the world...
Prepare for
Zen Sai
, a sleek Tokyo-inspired hideaway of Japanese tapas and sake cocktails, opening Monday at the Essex House.
Think of this as a polished pagoda of peace, serenity and Japanese sausage. A place to steel yourself against the madness of champagne-soaked pool parties and black-tie bingo affairs in the week ahead (and behind).
You'll want to pop in after work for some robata and a
Zing Martini
(bourbon, sake, lemon). Then, grab one of the brown leather high-backs at the 12-seat bar. The chef: a Bond St. alum. So just leave it in his hands as he churns out plates of
pork-belly sliders and squid jerky
.
But let's say you're coming here with a date. Your move: the outside patio seductively shielded from the SoBe fray by palm trees and Buddha statues. Start with one of 19 sakes (like the Zipang sparkling) and share some rolls like the
Prosciutto
, with mushroom and truffle oil.
We imagine sushi in Tuscany would look something like this.