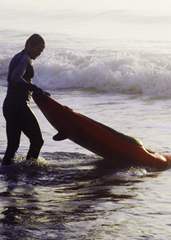 Picture yourself barreling down some Class IV rapids in a kayak.
The spray lashes relentlessly against every exposed inch of your skin. Jagged rocks pound the bottom of your vessel like a bunch of pissed-off river Poseidons. A spawning salmon just slapped you on the side of the head.
Exhilarating.
Now picture the face-first version of that...
Behold the inevitable rise of the
Bellyak
, a gloriously plucky new take on the kayak that involves you lying flat on your stomach and thrusting yourself headlong into the rapids, available online now.
It's like someone took a perfectly good toboggan, introduced it to a boogie board and then sent the two of them out for a few martinis on the set of
A River Runs Through It II: Skerritt's Revenge
. The result: pure magic. Also, a really awkward date between two pieces of sporting equipment.
But yeah, it's a face-first kayak. The creators: a husband-and-wife team from Asheville, NC. The vessel: a flat-hulled boat with no straps or skirts that's designed to mirror the maneuverability and overall feel of an actual kayak.
Hop in, strap on a pair of paddle gloves (they sell those, too), lie down on your stomach and let the face-kayaking begin.
Shame they didn't make this thing in time for the Olympics.