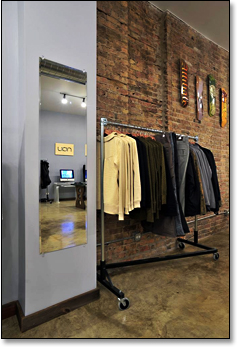 Recycling is pretty fashionable. Maybe that's why your newspapers, plastic and aluminum are all so handsomely bundled.
When it comes to recycling
actual
fashion, though, you'll pass. (Butterfly collars aren't coming back, at least not on you.)
So we think you'll like
Connect
, an eco-friendly clothing retailer, opening today in Wicker Park.
Like hippie-wear meets Armani, Connect features good-looking clothing made with recycled plastic bottle caps, organic cotton, hemp and even coconut shells. (Think Woody Harrelson's clothing line, only something you'd wear.)
Our favorite piece is the
Nau Riding Jacket
. Inspired by British equestrian couture, its sleek caviar-colored shape coupled with stretchy water-repelling fabric will serve you well on those nights when it's too damp and chilly for a sport coat, but you don't want to be covered in rain gear as you cavort at your usual hangouts.
Though you're welcome to hang out here. Macs are set up for you to surf—handy if you're shopping with someone who takes longer in the dressing room than you. Just don't order online while you're there: Connect offers a ten-percent discount for store purchases that can be bike-messengered anywhere in the city in order to save UPS the trouble.
And you a little green.