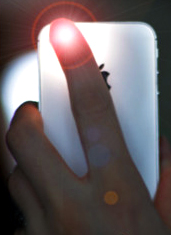 Cameras.
Useful little contraptions.
Great at capturing special moments.
Great at wrecking political careers.
Great at tracking your heart rate during a pentathlon.
Presenting
MyPulse
, an app that monitors and records your heart rate through, of all things, your iPhone's camera lens, available now.
If you own an iPhone, know where the camera lens is located and are currently breathing, congratulations, you're ready to use this.
Start by downloading the app. Then, putting on spandex (an optional but strongly suggested step). Next, head to the gym. Or the track. Before you begin a workout, place your index finger on your phone's camera lens. The app will then register your resting heart rate. It does this through magic. And light patterns. It's science, whatever, just start jogging.
At different times during your workout, the app will signal you to touch the lens. Do this. Your beats per minute will be recorded. A chart of your data will be displayed. This will excite you. (Hey, you've got a thing for bar graphs, we don't judge.) This will also show you precisely when you've hit your target heart rate.
And if you want to keep tabs on your numbers, all of the measurements and performance logs can be sent directly to your computer. Or printed out.
Yes, this would be weird to hang on the fridge.