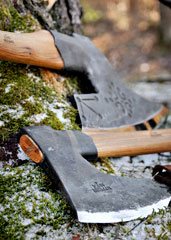 Your living space has plenty of nice things.
Fine art. Leather-bound books. Anthologies of
The Far Side
.
What it doesn't have: an X factor. Like a pinball machine from the '70s. Or a stuffed hawk. Or, you know, a handcrafted axe from Latvia.
Until now.
Presenting
John Neeman Tools
, a cornucopia of handsome, Latvian-born wood-shaping paraphernalia to lay about your domicile, available now.
If someone found a way to take Cary Grant's manly good-looking-ness and turn it into a set of Northern European axes, steel tools and knives with curved blades, it would probably look like this.
And sure, you don't really use too many axes or tools or knives with curved blades in your daily life. And even if you did, you could land some mass-produced versions of these objects at, say, Sears. But those won't have the same handmade, leather-sheathed, log-cabin-era vibe (to say nothing of the Latvian-ness you're going for).
Our favorites of the lot: the strange but beautiful
Adze Sisters carving tools
, ideal for letting guests know you're into the lumber arts.
Yes, that's just a fancy way to say whittling.