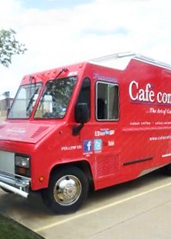 Current Cuban-sandwich population in Dallas: zero... ish.
Current food-truck population in Dallas: 63... ish.
Number of times you wished you were eating roast pork today: seven. So far.
Seems like a thing someone should do something about.
Meet
Café con Leche
, an imported-from-LA food truck that's bringing authentic Havana cuisine to the Cuban-sandwich-starved people of Dallas, rolling out now.
This is what happens when a guy from Miami who knows a ton about Cuban food moves to LA, buys a truck and roasts a bunch of pork in the back. Truck becomes a huge success. Truck then comes to Dallas, where it starts slinging grilled sandwiches, pork-rice-plantain combos and strong Cuban coffee. Or, in other words, stuff you like and can't find anywhere else.
Tomorrow, when you're hungry and craving something new for lunch (something like guava-and-cheese-filled empanadas), you'll track this truck down. You'll do that via
Twitter
. Then you'll score a Cuban sandwich. A grilled, handheld brick of marinated pork, ham, Swiss cheese and pickles. So... it's one-fourth health food.
And soon, look for the
Manolo
, a sub topped with steak, Swiss and special sauce, named for that character in
Scarface
. No, not Al Pacino. The other one. Pacino's friend. The guy who played him is buddies with the owner.
Or if you want to get technical, BFFs with the owner.