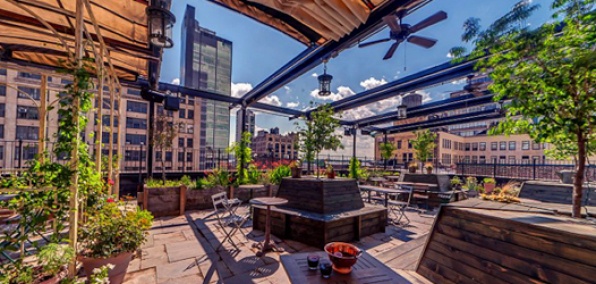 You've been meaning to incorporate more plant life into your cocktailing.

Also: cobblestones, ladles and Shakespeare.

Which reminds us, your demands have gotten a little out of hand.

Still, there's a place.

Stop and smell the roses at Gallow Green, the inevitable rooftop garden cocktail division of the McKittrick Hotel, in previews now.

Sleep No More. You've been. You've seen. You've conquered at least 13% of it. Well, this is the very top. A delightfully overgrown floral-and-cobblestone dreamscape where you'll process what you've just witnessed over six-person flaming absinthe punch bowls.

If you feel like you're on a set, it's because you are. You've got a funerary brass band. You've got a hollowed-out utility cart. It's all part of the experience—Lady Macbeth's last stop. What it means for you: a lush, fragrant spot for you to seek out green fairies and discuss the finer points of wrought-iron trellising over copper bowls filled with scotch, wine, nutmeg and orange shrub... to the tune of a funerary brass band.

You'll make a reservation online. If you're there for the show, they'll let you know when to show up. If it's a cocktails-only situation, block off a couple hours whenever and get ready to say things like, "Ah, yes. Tulipa gesneriana. Fascinating species."

You so rarely get to show off that botany minor.