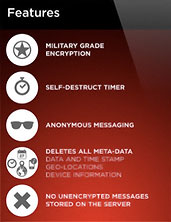 Things with long shelf lives:
Twinkies. Spam. Ryan Seacrest.
Oh, and that now-infamous video of you "party rocking" to LMFAO at last year's office soiree. (You had very little to eat that day.)
It was humiliating. And it'll never happen again.
Because now there's
Wickr
, a messaging app that offers the equivalent of an edit-undo function for your iPhone correspondence, available now.
Codesigned by a military security veteran, this app features a timer that will eradicate any sent text, photo or video after a predetermined viewing period, starting at one second and maxing out at six days. (This could've really, really helped Brett Favre.)
So let's say you want to send a coworker a few highlights of your recent "business" trip to Vegas—without the threat of it entering office circulation. Simply sign in to the app, set the self-destruction timer and dispatch the media over Wickr's secure network, which uses military-grade encryption technology previously reserved for secret operations (think: the CIA). Your coworker will see the text/photo/video, and when the time's up, it'll vanish. Poof.
And don't worry about the evidence languishing in some easily recoverable hard-drive purgatory. Upon "destruction," it'll get overwritten using a sophisticated mathematical algorithm (basically the equivalent of a virtual paper shredder).
Someone forward this to Anthony Weiner.