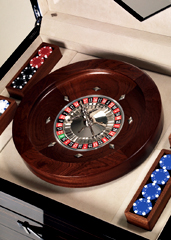 Let's take a quick look at your cocktail-party supply list:
1) A cigar cutter
2) A roulette wheel
3) Leather game boards
4) A chimp-manned bourbon luge
5) A sequined croupier
And since you're practically swimming in bedazzled croupiers and primate-operated luges...
Meet
Ewin's Dry Goods
, a dashing website filled with the sort of handsome/handcrafted leisurely wares your grandfather might've used (if your grandfather loved gambling, drinking and raising hell), online now.
The items here hark back to a simpler time. A time before laptops. Before smartphones. Before Ochocinco's Twitter feed. A time when men were men and cigar cutters were made out of ox horn. Also, chess sets were made out of Florentine elm. You love that time.
So naturally, you'd do well to keep these guys in mind when stocking up for your next poker night (they've got chip sets and leather card cases). Or your next smoke-cigars-on-a-rooftop night (they've got stogie cutters the size of butcher knives).
And if you're having one of those evenings, you're probably also looking to drink. Good news: they've got flasks. Lots of them. Pewter ones. Stainless-steel ones. And an entire collection devoted to hip flasks wrapped in needlepoint.
It's like pajamas. For your whiskey.