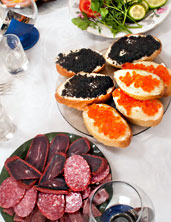 That storm last night. That was something.
You thought you were dead... like 17 times.
And it was during one of those times when you made a promise to yourself.
If you got out of this, you'd try new things.
Like bird-watching. Or spelunking. Or a pop-up dinner in a Pilates studio.
Introducing
100 Mile Supper Club
, a series of locally sourced meals in completely unexpected places, taking reservations now for this Sunday's first event in Avondale Estates.
The concept: a pop-up series helmed by some of the area's best chefs/butchers (think JCT. Kitchen, Pine Street Market). The catch (there's always a catch): everything on your plate came from within 100 miles and will be served in something besides a restaurant. Say, a feast of smoked chicken oysters in a doggy day care center. It's got "mistress dinner" written all over it.
First, you'll want to snag an extremely limited ticket online. Then, head somewhere strange in Avondale Estates. Arrive. Take a seat. There'll be a bluegrass band. Also,
a five-course barrage of dishes like moonshine-smoked trout
and moonshine-doused berries. Apparently, bootlegging is booming around these parts.
Then, next month, do it all again. In an old movie theater. Or a library. Or a roller-skating rink. One of which just might include the guest chef services of the French Laundry's Thomas Keller. He has a standing invitation.
Apparently, he loves Atlanta this time of year.