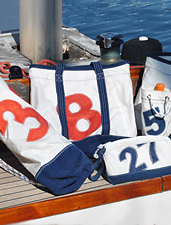 Christopher Cross said it best...
"Oh, the canvas can do miracles, just you wait and see."
And then he sang about sailing. And how it took him away. To where he'd always heard it could be. (Which, turns out, was to #10 on the 1980 Billboard Adult Contemporary chart.)
But he kind of nailed it, really.
Especially the part about canvas and miracles...
Trim the jib for
Boyd Sailcloth
, a SoCal-based online shop full of beach bags, dopp kits and anything else you think should be made out of canvas from retired sails, available now.
So yes, what you have here are things made from old sails. Things like duffel bags. Wine totes. Even damn yoga bags. And they were all stitched together by the grandson of an old sea dog named Willis Boyd, who used to design and race custom sailboats back in the day.
And that's fine. You should definitely grab something off the rack.
But the real reason you're here: the custom job. Meaning you can shoot him an email and have him create a bag customized to your exact specifications (built-in Swedish Fish dispensers, secret gin compartments, secret bourbon compartments...). He'll even use one of your old sails if you send it in.
Don't tell us you don't have any old sails to send in...