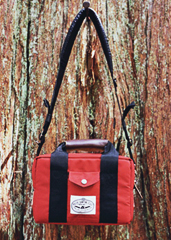 Well, it's officially the middle of summer. So today, we're going to talk about how to look like a tourist.
No, we don't mean the blindingly white Reeboks and the "I'm with Stupid" T-shirt. Nope, we just mean the camera case. Which, in this instance, holds your beer.
Introducing
The Camera Cooler
, a perfectly useful little piece of luggage that goes from camera holder to mobile party-starter, available now.
This is the best thing you've used to keep your beverages cold since your
A-Team
lunch box from many summers ago.
So say your college buddy who's running for a congressional seat is taking you out on the hustings, and you want to capture him mid-balloon-drop. Throw the dividers in this case and it will handle a DSLR and a lens, as well as your iPad and iPhone for immediate image dissemination to the world.
And once it comes time to celebrate his incumbent-slaying performance, you can replace the insert with some cold packs and tote the sixer of your choice.
Of course, you could start out with the six-pack, only to turn your attention to photographic applications when the situation becomes picture-worthy.
Or you could just keep your camera cold.