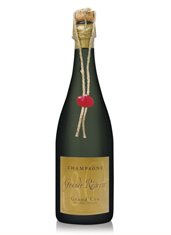 Today, we raise a glass.
To the good times. The fast times. The times that have made you seriously consider dancing to "Call Me Maybe."
But in order to join us, you'll need some champagne.
Preferably the kind no one else on the planet has access to...
And for that, we direct your attention to
Henri's Reserve
, an online champagne shop doling out bubbles from some of the rarest vines on earth, available now.
So here's the thing... You can get champagne anywhere. The bar. The liquor store. The hot tub. (It has to be filled with champagne, though. Otherwise you can't get champagne from there. It won't work. We checked.) And that's fine. It's nice to have options.
But this place is different. For starters, they only deal with the handcrafted/estate-bottled/grower-produced stuff. They've also got the same bubbly (Dumangin) quaffed by Sir Paul McCartney and Nancy Shevell at their wedding. Which is... neat.
As for your role in this whole scenario: you'll go to the site, hit the button that says "shop" and... shop. It's all there—a Jean Milan "Grand Réserve 1864" Brut Blanc de Blancs. Rosé from Henri Billiot. Other bottles of things with complicated names.
There's also a tasting option where you can pick three champagnes, and they'll send you a bottle of each complete with tasting notes.
Although we assume reading won't be a priority at that point.