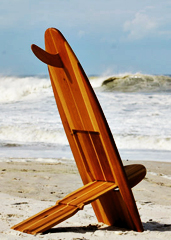 We interrupt this preholiday half day for a very important announcement...
About seats.
And surfboards.
And the mad scientist who just combined the two into the perfect beach chair.
Or the perfect flotation device, in the event of a water landing.
Presenting
Bombwatcher Surfboard Chairs
, a new Cocoa Beach–based line of lounges that look like they were crafted from waxed-up longboards, available now.
First thing you should know: no, you can't actually surf on these things (but we don't expect that to stop you from trying). They're more for sitting in. On a beach. While you drink a cold beer. And do a whole lot of nothing else.
See, these things were designed by a surfer. Call him Clinton Underwood—because that's his name. He decided to take the timeless concept of a fold-out chair and combine it with the timeless cool of a cedar-and-oak single-fin longboard. The result: a rot-resistant/sand-appropriate throne for you to bring with you to the beach.
Or for you to stick on your patio. Just flip down the bottom, angle out the back and recline. It'll fit in just fine next to your jacuzzi/grill/grillcuzzi.
Note to self: invent grillcuzzi.