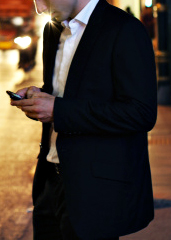 Here was the cool thing about Gosling in
Drive
:
Everything. Everything was the cool thing about Gosling in
Drive
.
But today, we're going to focus on the driving part.
Because today we're introducing
SideCar
, a new app that lets you drive people wherever they want to go (for fun and/or profit), or hitch a ride when you really need one, available now.
Here's the deal: this app basically lets you register yourself as a driver for hire. (There's a quick background check, including a brief Skype interview. You'll want to practice your toothpick-chewing.) Then, anyone needing a ride can call this thing up on their phone, check out your profile (including the make/year of your car, plus a headshot, naturally) and book a ride immediately.
Of course, you may on occasion need a ride of your own—the kind that a mere cab or car service is ill-prepared to handle. (Botched robbery, Albert Brooks's henchmen coming after you, that sort of thing.) In that situation, you can also book a ride through here, at which point you'll see a GPS-powered map that tells you exactly where the car is on its way to pick you up.
Just try not to get blood on their seats.