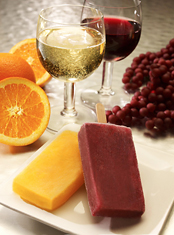 We're lovers. You know that. But every now and again, something comes across our desks that just seems... suspicious. Because of the tremendous material upside to all our lives if these claims pan out, we at times put ourselves in harm's way to investigate. Albeit skeptically.
We call it: Skeptical Investigation. (Trademark pending.)
THE CLAIM

Three local guys with a love for wine and popsicles decided to try fusing the two into frozen alcoholic treats. So, they got a bunch of vino, fresh fruit and an industrial-sized freezer, and invented
SocialIce Winesicles
.
THE INVESTIGATION

We instructed our black ops day-drinking unit (code name: Afternoon Delight) to obtain samples through any means necessary. In this case, that meant a trip to 303 Bar & Grill for cocktails... er, ice pops. Intense negotiations ensued, but they managed to secure two popsicles the hard way: they asked politely.
The flavors:
Mimosa Orange
and
Sangria Grape
. The packaging: lackluster. Think Ziploc bags with logos. But we didn't come here to judge a book by its cover. We came here to eat wine. And possibly get brain freeze.
THE VERDICT

Pretty darn good. The Mimosa Orange tastes surprisingly authentic. And the Sangria Grape: grape juice. But with 5% ABV.
Which is 100% more than anything Blue Bell makes.