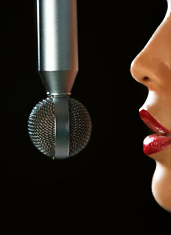 A few golden rules for the eternal awards-show circuit:
Always thank your agent. Always bring a flask. Always get out of Jack Nicholson's way.
Oh, and never get played off stage...
Here to help you with that last challenge is
Video Recording Teleprompter
, a handy little app that turns your smartphone into the equivalent of the Oscars teleprompter (minus the impatient orchestra), available now to help you practice your big speech.
Think of this thing as your new secret weapon for rehearsing. While everybody else is distracted by the summer blockbusters—hey, look, another thing smashing into a building but just missing the leaping hero—you're prepping hard for the awards-season crunch.
You're downloading this app on your iPhone or iPad and recording yourself on the front-facing camera, with the thank-you speech you imported rolling across the screen at an adjustable speed. You're playing it back. Studying. Rerecording. Refining. Adjusting deployment of single tear. And come February, you'll breezily wrap up with 0.00003 seconds to spare.
If you're not planning on winning an Oscar anytime soon, you could hypothetically use this to memorize anything important—a dramatic monologue for a big audition, a boardroom presentation you've been working on for months, a critical Skype chat with Mom...
You could even upload the resulting video to Facebook or Twitter to get some feedback.
Note: you should probably never do that.