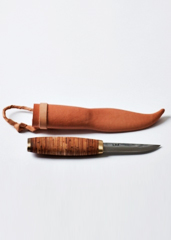 Let's talk about your place for a second. You have the essentials: bed, couch, robotic beer caddie. So it's getting there.
But your collection of Scandinavian foraging knives and Finnish whiskey cups... well, we'll just say it could use some help.
From someone like, say,
Mjölk
, a well-respected purveyor of the sharpest—in some cases, literally—in-home accessories that Scandinavia and Japan can produce, available now for the first time online.
This is basically the stuff Ikea forgot to stock: the handmade carbon-steel, birch-handled knives from a fourth-generation Finnish blade-maker who forages the birch himself. A crow-shaped bottle opener made by Japanese artisans. A $75 concrete toilet-brush holder, which, if you buy only one $75 toilet-brush holder this year, is the one you should buy.
The point of all this: imagine entertaining that aesthetically minded new friend you met at the Old Town Art Fair. And imagine it turns into a sleepover. You'll now have a soft tweed blanket designed by hipster Norwegian designers who teamed with traditional artisans. Now
that
should nudge things in the right direction.
If that doesn't work, maybe try some of their hand cream, originally made for the Swedish military for frostbite, scratches and damaged cuticles. And just why the hell the Swedish military is worried about damaged cuticles, we don't know.
But their backrubs are legendary.