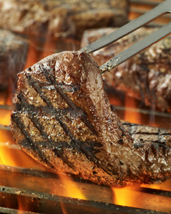 It's simple, really.
You love grilling, but you hate standing/sweating over a grill.
What you need, then, is something that allows you to grill. From another room.
So get a load of the
CyberQ Wi-Fi
, an Internet-enabled controller that connects your smartphone or computer to your grill, available now.
Summer = hot. And standing in front of an inferno, constantly checking the internal heat of the grill, and what's being grilled, can be a bummer. Enter this thing. (One warning: the instructions are as wordy as Ikea instructions are picture-y. But if you can get over that, you're in business.)
You'll start by firing up the charcoal in your grill (or your smoker). Then, you'll wirelessly connect your smartphone/computer to this thing and superaccurately monitor the heat remotely, as long as you stay in range (yes, your downtown office is probably out of range).
And since you'll be grilling an array of various, perfectly marinated meats, you can also use the probes to monitor cooking temperatures, allowing you to roam freely about the house (and the central air). There's even an audible alarm that sounds when you begin to overdo it.
It's the sort of alarm you could probably use in Vegas.