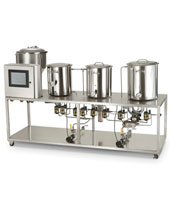 Drinking beer.
You've got it down to a science. An art.
Brewing beer.
You've got it down to... well, you know enough to leave it to the professionals.
But in the spirit of cutting out the middleman (and in the spirit of filling your house with ridiculous gadgetry), we bring you this.
Yes, it makes beer.
Presenting
The Professional Microbrewery
, a comprehensive homebrew kit that makes mass-producing beer in your kitchen way easier than it has any right to be, available online now.
Bumper bowling. Paint by numbers. Hitting a beach ball with a baseball bat. This is like that. Except with brewing beer.
See, this stainless-steel contraption tees up exactly the kind of lager-making that's right in your wheelhouse. The easy kind. Included with the kit: tanks, kettles, gauges, mini kegs and one really smart computer that does all the work. In fact, all you actually need to do is stockpile a bunch of hops and get out of the way.
But not before plugging the thing in, entering an IPA recipe you found online and following a few prompts on the computer touchscreen. Once completed: you've got beer. Lots of it. Enough of the stuff to keep you covered in the event of an emergency.
Or a Friday.