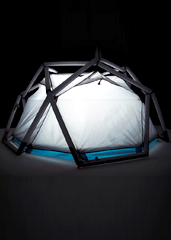 S'mores.
From their conception in 1927 by the great Edgar S'moresteinston IV (allegedly) until three seconds from now, they were the greatest thing about camping.
Happening three seconds from now: you finding out the Germans engineered a tent that looks like a giant robot spider.
Presenting
The Cave
, an ominous-sounding inflatable tent that could pass for alien technology... yet requires next to no assembly, available now.
"Strange-looking tent." That's what you'll say when you see this thing (it's a bunch of crisscrossing polyester tubes made to mimic the molecular structure of a diamond).
"Most productive minute of my life." That's what you'll say while you're eating a hot dog after you've just set this up in record-breaking time.
Yup, putting this thing together: crazy simple. Like blowing up a balloon. With a hand pump. Only not as hard. Just unroll the reinforced canvas, attach the included air pump and let common sense take over.
That's the easy part. The other, earlier easy part: contacting Germany and ordering one of these rigs. Do so now. That way, when it's time to go camping (oh, by the way, it's time to go camping), you're all set.
In the tent department.