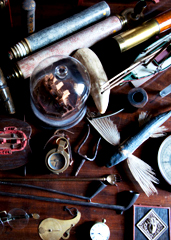 They say one man's trash is another man's treasure.
It's true, you know.
Just look at
Storage Wars
. Those guys get it. Or, like... museums.
Anyway, it's got us thinking. You should probably start turning a profit on that stuff.
By taking a picture of that stuff.
Clear the lawn for
Yardsale
, a new iPhone app that works like this: take a picture of something you want to sell. Watch as it automatically uploads to Craigslist, Facebook and Twitter. Collect money. It's available now.
This thing basically acts as the middleman between you and Craigslist, filtering out any spam or not-so-serious buyers along the way (you've been warned, @uncletickles). And the same thing applies in reverse—there's a whole marketplace on there where you can buy things that people around you have put up for sale.
So let's say you decide to part with that old ottoman that's just taking up space (or because you think ottomans are stupid). Take a picture of it (they come out kind of Instagram-y), set a price ("priceless, but $50") and give it a name (Phil).
Then sit back as the offers come in. Or just plunder through your neighbors' stuff.
Assuming your neighbors have this app. Otherwise it's breaking and entering.