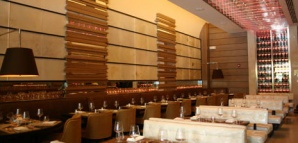 You loved chef Sean Brasel's gentle touch at Touch. The belly dancers and fire eaters at the clubby restaurant were a little less subtle.

Now, thankfully, the chef has graduated to more sophisticated digs across the street, where the atmosphere is less Hefner, more Luger.

Introducing Meat Market, a suave steakhouse soft-opening this weekend on Lincoln Road, ready to up your iron count with style.

This new beef temple (in the former Pacific Time space) goes for high drama with soaring ceilings and space-age lighting via rows of LCD panels suspended above the dining room. Start off with a cocktail (like the chevre goat cheese-infused martini) at the black marble bar by the entrance, which also doubles as a crudo bar should you want to sample cedar-scented hamachi or yuzu truffle oysters. When hunger kicks in, retreat to one of the ivory alligator benches flanking rosewood tables, where cowhide walls hammer home the safari feel. Tuck in to a variety of carnivorous bounty including a Harris Ranch ancho-and-coffee bone-in filet or a Japanese A5 Kobe tenderloin.

If you and your date are looking for a little privacy, request one of the four chef's tables outfitted in oak alcoves and chocolate brown booths. They're located across from the frosted-glass open kitchen for front-row views of the culinary wizardry on display.

It's less Hefner, more Copperfield.