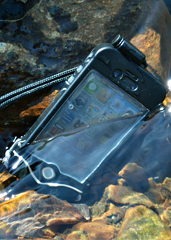 In about three hours, it's going to be the weekend.
Which means, in about three hours and seven seconds, you're going to be in a bathing suit.
And so is your iPhone.
Sort of.
Presenting the
DriSuit Endurance
, a super-resistant protective case that gives your iPhone the ability to work underwater, available now.
Think of this like a submarine for your cell phone. Only not as bulky. And without a periscope (would have been nice, though).
It all works because 1) the shockproof seal is water-resistant (up to 15 feet), and 2) the screen is protected by a thin fluidic membrane. It allows the phone to avoid water pressure damage. Also, it enables you to operate the touchscreen while sitting at the bottom of a pool. It's science. Whatever. Don't worry about it.
As for when you'd use such a thing. Well, say you wanted to call for a pizza. While scuba diving. In a hot tub. Now you can do that. Or say you wanted to stream a movie. While in the shower. Now you can do that also. Not to mention the underwater picture-taking potential (1 + 1 = ...).
Basically, we have a hunch you're going to be around more than a few bodies of water in the coming weeks, and we think this might be a good investment.
This, and goggles.