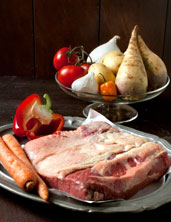 Get ready for some beef cheeks.
Or... wait.
Let's try that again.
Get ready for some beef cheeks.
Okay, that still didn't work. Honestly, we just wanted to say "beef cheeks."
But the point is this: there's a little butcher shop in Boston. Julia Child was a regular there. It opened in 1939. And it's been the stuff of meaty legend ever since.
And now, it's in your backyard...
Say hello to
Savenor's Online Market
, standing by to grace your grill with all manner of meat-related excellence (kangaroo, yak... beef cheeks) from one of the country's most revered butcher shops, delivering now.
Places like this are great. You're familiar with the type: everyone knows it. Everyone loves it. Every chef in existence has a walk-in refrigerator filled with stuff from it. The problem: everyone, in this instance, lives in Boston. And until now, you were forced to stand idly by while tales of kangaroo burgers, antelope ribs and rattlesnake kebabs filled the air.
No more.
Because now, it's a simple matter of hopping online and filling your imaginary grocery cart with a blinding array of protein, the likes of which your grill has never seen before.
Or just pork chops. They have that stuff, too.