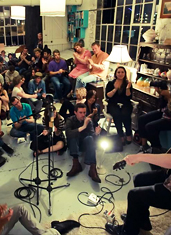 Sometimes you can't deal with the clubs, the ropes, the whole Hollywood thing.
You just want a little house party with friends.
And some strangers. At an undisclosed location. With a London pedigree. And a performance by a top-tier band.
Like we said: just a little house party with friends...
Introducing
Sofar Sounds
, a roving British house party that's roved all the way to LA, now rattling the windows of our fair city.
To fully understand what's going on here, you need to picture your living room. Or your friend's living room. Or a total stranger's place. But you know, a couch. Some chairs. A TV. A coffee table. That sort of thing.
And then picture 100 hip strangers showing up with beer. Sort of a pop-up indie rock club, but at an apartment. And eventually a band takes stage—note: there's usually no stage—to melt everybody's faces off. Bonus: the bathroom is usually pretty easy to find.
This thing got started in London, and basically you have to get yourself on the mailing list (via the website) to be invited. And once you're invited, you gotta RSVP instantly, because only the first 100 or so responders get on the list—and get the address of where the next night is going off. Once you show up, you might see KCRW's next imminent heavy-rotation favorite... or Robert Pattinson at the mic. He sang at this thing before.
It helps if the landlord is on Team Edward.