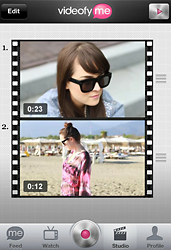 Scorsese. Nolan. You.
All pretty good at shooting short movies on a phone. (You heard it here first that Nolan's got an eye for framing.)
And everybody could easily be making some extra coin for the effort...
Take a look at
VideofyMe
, a new app that's a bit like Instagram for video—it's available now, and you get a cut of the ad revenue generated by all your viewers.
Maybe you're at Intelligentsia and you're suddenly inspired to shoot a moody little sepia short film about a girl, a dog and their matching bangs. Or maybe you're just shooting a home video of your friend at the beach and all of a sudden you see a seagull on a cat on a dog on a person... on a unicycle. Congratulations, you just accidentally captured the world's viral video for today.
Either way, the VideofyMe app gives you a bunch of easy filters to class it up. Pretty much just like Instagram, but the pictures are moving. You get it.
Once you publish it, your legions of viewers will see some embedded ads. Which may seem like kind of a bummer until VideofyMe sends you a check for your cut of the revenue. You brought them all those viewers, so it's only fair.
It probably won't be a billion dollars.
Probably.