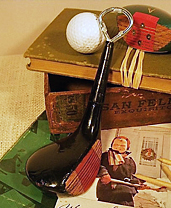 Father's Day.
We hate to say it, but you may have blown it.
See, while you bought Dad a tie, a bottle of scotch and a copy of
Fifty Shades of Grey
(weird call, by the way), you could've just gotten him this.
Presenting the
Vintage Golf Club Bottle Opener
, a regular old bottle opener that's been grafted onto the head of a 3-wood, available now.
Think of this as the second-greatest golf-and-beverage collaboration since Arnold Palmer decided to get a little frisky with his iced tea.
The manufacturing of this thing started over 40 years ago, when someone hit a slice, took a mulligan, hit a hook and broke a club over their knee.
Fast-forward to now, where an Etsy operation has been set up to collect that busted driver, salvage the clubhead and stick a little silver bottle opener on the end.
So this Sunday, sometime after the BBQ but before the awkward hug, tell Pop the big news. You've got one of these on order for him. It'll ship on Monday, it'll arrive wrapped in tweed, and it'll make opening up sixers a heck of a lot easier.
Unfortunately, it won't do anything for his short game.