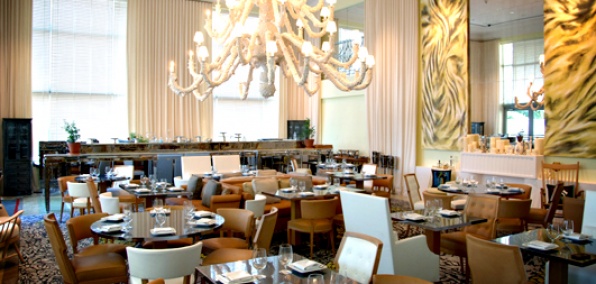 Game-changer. Mold-breaker. Mind-blower. Call it what you like, but know this: your nights in South Beach just got a lot more surreal (in a good way).

Yes, The Bazaar by José Andrés, a Valhalla of exotic tapas and futuristic cocktails, is now soft-open at the SLS Hotel, and fully open Monday. Here's what you need to know.

Expect culinary pandemonium.
Your chef: James Beard Award winner, friend of Gwyneth and wizard with jamón, José Andrés. The designer: Philippe Starck, that exuberant Frenchman who sexed up the Delano back in the day.

Smoking is allowed.
Well, sort of. In your cocktails. Start off with a tableside LN2 Caipirinha, whereby lime, cachaça and liquid nitrogen are mixed in a smoking cauldron from which emerges the most refreshing alcoholic slushy on earth.

There's a bull watching you.
That would be in the first of two dining rooms. The black-couched, red-curtained, luchador-bull-adorned Rojo. If it's a date, go here. If it's a quieter occasion (dinner with the boss), there's Blanca, an inner sanctum adorned with a seashell-clad chandelier and a lemon-colored mural.

There are no appetizers... or entrées.
Instead, an epic 60-dishes-and-counting pageant of small plates. Things like the Cubano sandwich made with Swiss-cheese-filled puffy bread topped with ibérico ham. Or the Japanese Taco filled with grilled eel, shiso and chicharrones. Or, you know, 58 other things.