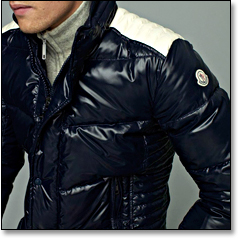 It's only natural you have mixed feelings about dressing up this Halloween. A handsome devil like you should never disguise your good taste, only amplify it.
Instead, take a cue from the new
Moncler Austin Bubble Jacket
, now available at Barneys. It's a ski jacket that's disguised itself as a racing jacket, doubling down on two icons of male fashion. Imagine what Steve McQueen and Jean-Claude Killy would get up to if let loose together on the Swiss Alps for après ski, and you've got a pretty good idea of what this jacket is about.
Of course, you've always been a fan of this classic Euro outwear maker. The Austin line continues Moncler's tradition of form-fitting poly-down padding, so not only will you stand out from the shapeless masses this season, you'll be able to raise your arm to hail a cab on Michigan Avenue. And when bitter cold gets to be too much, a comic sewn in the lining will be good for a much-needed laugh (so what if it's written in French).
But if you want to get serious about things, pick up the
Moncler x Men's Vogue Austin Jacket,
a limited-edition royal-blue replica of the jacket worn by trainers for the 1968 French Olympic ski team. Only 220 jackets were made, and they're going fast.
Which is only appropriate.