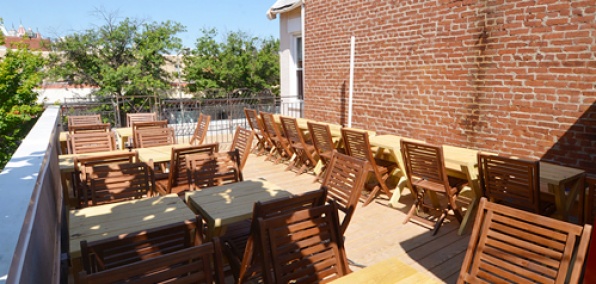 The good news: there's a new rooftop coming to Columbia Heights where they'll bring you octopus tacos and margaritas with whipped avocado in them.

The bad news: well, truthfully, there isn't much. Except maybe that you're going to be visiting other rooftops a bit less.

It's called El Chucho Cocina Superior, it's from the folks behind the great Jackie's and Sidebar in Silver Spring, and it's expected to soft-open late next week.

This is a tale of two totally different spaces. Downstairs, you'll find a tiny bar like something out of a Mexican border town, so expect a reverb-y chord to sound as you enter to yellow formica high-tops that spill out onto the sidewalk, giant dice hanging from the ceiling and lamps made from repurposed torpedo casings (presumably the duds).

And given the 60 tequilas and six lines of beer, you may just want to park yourself right there. We wouldn't stop you.

But as long as the mercury stays in the double digits, you'll want to head up the narrow stairs to the roof deck, where you'll sit at mini picnic tables amid wrought-iron fences from the 1850s and a wall of reclaimed shutters. There, you'll claim a frozen habanero-strawberry margarita, grilled corn on the cob and jicama salads served in Ziploc bags.

Makes it easy to sell them in the alley.