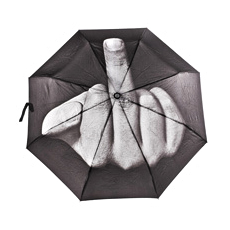 It's raining on your parade. Or whatever you may have had planned today.  
Since you can't challenge Mother Nature to a duel, walk in between drops or lip-sync your way through a hit pop song espousing the culpability of the rain, let us suggest a more subtle way to air your soggy frustrations.
Presenting the gently named
F*** The Rain Umbrella
, available online now.
More art piece and measured rebellion than ace umbrella, the F The Rain is screen-printed with a giant black and white image of a hand flipping the bird toward the heavens (in the most tasteful way possible, of course...). It won't keep you dryer than your typical bodega contraption, it won't un-cancel your round of golf, and it won't dry your socks, but it will give you some peace of mind knowing that the weather gods are getting their comeuppance.
If you're concerned about offending rain enthusiasts (farmers, poncho salesmen) and coworkers, not to worry: The giant middle finger is only visible from above when the umbrella is open.
Much more satisfying than a rain dance.