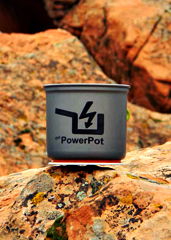 This could happen: you're in a national park (pick one). You're getting hungry and cold, and your GPS has died, so you're also lost. Liam Neeson is nowhere to be found.
You're going to need a few things: some hot water to stew those nettles and berries you just foraged for. A little direction back to civilization. Also: you'd love to check the hockey score.
Presenting
The
PowerPot
, harnessing the magic of boiling water to charge your gadgets and prevent you from becoming a cautionary tale, taking orders now for shipping in July.
This is like a mini power plant for your devices. All you need is a heat source (fire, a gas grill) and some water (um, water).
Should the situation become dire, you're not going to panic. Nope, that's exactly what the wolves would want. (And the vultures.) You're just going to pull this thing out and calmly go about making a cup of tea (hence the nettles and berries) as you jack your phone, GPS or tablet into it via the heatproof USB cable. By the time the anodized-aluminum pot starts heating your half-gallon of water, you'll also have a direct current running to your lifesaving piece of technology.
You can also drink the water.