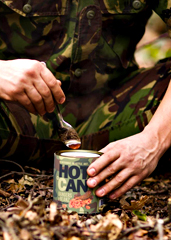 So here we are. The beginning of another hurricane season.
Time to start stocking up on the essentials.
Batteries: check. Flashlight: check. Bottled water: check. Band-Aids: check. Combustible can of rice pudding...
Check.
Presenting the
Hotcan
, a glorious advancement in packaged-foods technology that cooks up its contents in a self-heating can, available now.
So here's the deal. The British Special Forces have been using these things in the field for years. They're waterproof (true). They're grenade-proof (false). They're made to stay fresh for up to five years (true unless they come into contact with a grenade).
How it works: there's a water satchel that's wrapped around the outer can. Pierce it. Then wait for the water to activate some limestone granules on the bottom of the can. Through a natural reaction, it'll generate heat. And eight to 12 minutes later, you've got a piping-hot can of lunch. (If only Chef Boyardee could have lived to see this...)
Currently, these things are available in seven different varieties (think chicken curry, spicy beef pasta, rice pudding). But they'll also work with you to create custom meals. Just drop them an email, tell them your vision and let them handle the details.
Like figuring out how to fit a roast-beef hero in a can.