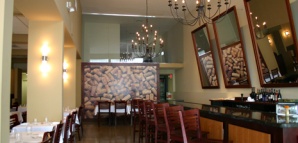 Be honest: You go where the beef-eating's good. And if it just so happens this brings you to a steak emporium that shuns dairy and shellfish, so be it.

Welcome to Rare Steakhouse, a new Miami Beach spot with old-world flair and the chutzpah to tempt you with kosher dining.

Helmed by the former owner of Club Revolution in Ft. Lauderdale, Rare is the kind of kosher steakhouse you could take a date or business partner and never miss a beat. Despite its dietary restrictions, the kitchen churns out juicy, flavorful dry-aged steaks, from center-cut filets and blackened rib-eyes to a massive 24-ounce bone-in Delmonico.

You'll like the airy dining room, too. Dim lighting, plush gray banquettes and medieval chandeliers lend the space a classy vibe—perfect for a power lunch. If you're interested in privacy, head to the second floor, where an additional dining room provides discreet nooks, and a glass-enclosed private area gives you views of the noshing below.

For now the restaurant only offers wine (though, alas, no Manischewitz), and plans to offer a full bar setup soon. It's tough not having a martini with your rib-eye, we know.

But we're confident you'll find one soon enough.