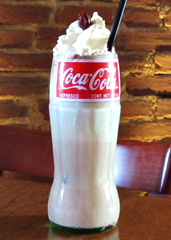 Hot out there.
Well, we know where you can find a great float. Ice cream, Coke, whipped cream, the whole nine yards.
And naturally, rum, absinthe and Southern Comfort–soaked cherries.
So belly up and get ready to try
The Cuba Libre Float
, available now off-menu at the Hemingway-inspired Bar Pilar.
Think of this as the perfect marriage of Hemingway's time in Paris and Cuba—if Hemingway worked at a 1950s soda counter.
They start things off with a highball glass made from a salvaged Coke bottle (it involves some specialized hardware), into which they drop three scoops of vanilla ice cream. So far, so good. Also: cold.
Into that goes a shot of rum and authentic Mexican Coke filled to the top.
You were sensing a denouement coming (the Paris thing again), and it's a doozy: the whole thing gets topped off with a cherry soaked in brandy and Southern Comfort, and a mound of housemade absinthe whipped cream. The particulars aren't important: just know that it's herbal, it's licorice-y, and, well, it burns a little on the way down.
Do not try this with Cool Whip.