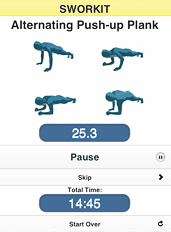 The gym is packed.
You lost your wristbands.
The world's sweatiest Sox fan is on the treadmill next to you.
Yes, there are many reasons to avoid working out. But starting today, "not enough time" isn't one of them.
Presenting
Sworkit
, an iPhone and Android fitness app that generates random, body-part-specific workouts based on specified amounts of time, available now.
So let's say the first-ever interoffice strongman competition has been greenlit for August (by you). In order to ensure the beefy new intern from Estonia doesn't run away with the whole thing, you're going to need to fit in some gym time wherever you can. That's where this comes in.
Once you've made it to the gym, select how much time you want to work out—be it five minutes or 60—and the area of the body you're looking to target (upper body, core, calves). Hit start, and you'll be met with a never-repeating stream of exercises (more diamond push-ups than bench presses), which you'll perform in 30-second intervals. (When each interval is done, a little ding will go off and it's on to the next one.)
And if you're looking to connect with your chakra, there are even custom yoga sessions, showing you each pose while you control the overall speed and intensity.
Your chakra tends to skew intense.