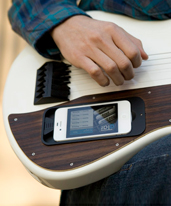 If any of the following scenarios apply to you, we'd like to politely invite you to stop reading this right now:
1) You were born with a '65 Stratocaster in your hands.
2) Your work was once described by
Rolling Stone
as "incendiary."
3) Your name is Stevie Ray Vaughan Jr.
If you're still with us, congratulations... you're about to learn how to play the guitar.
By sticking your phone into it.
As if there's any other way...
Behold
gTar
, an actual six-string guitar that only works when you put your iPhone into it (yes, there's a built-in port) and launch the corresponding app that teaches you how to play, available now for preorder.
If the creators of
Guitar Hero
decided to have a few drinks with a high school music teacher... well, that would be weird. Also, they would probably come up with something that looks a lot like this.
Here's how it works: once you launch the app (it comes with a bunch of songs—some easy, some hard) and dock your phone in the guitar, a series of LEDs will light up on the fretboard that correspond to whatever song you're learning at the time.
Follow the lights with your fingers. Strum the chords that pop up on your phone's screen. And boom... you just learned how to play "In-A-Gadda-Da-Vida."
Or like "Hot Cross Buns" or something.