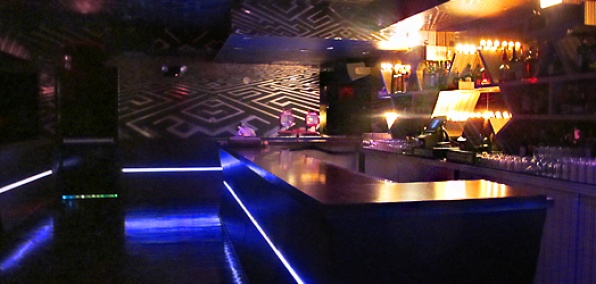 Great long weekend. That's how it's done. You look like you got some color.

And hopefully some rest.

Because an old friend is back in town. A nocturnal old friend.

Raise your eyebrows suggestively for the return of Pink Elephant, a good old-fashioned laser-steeped underground cave of uninhibited dancing and unrepentant bottle service in the Village, of all places, taking reservations now for this weekend.

You may have heard rumors of a gentler, cocktail-ish, less Euro-house-y Pink Elephant. Unfortunately, the girls dancing in the feathered bathing suits on either side of the DJ booth don't have much to say on the subject. And the folks sweating and moving beneath the pulsating pink-and-blue light show: can't really hear them. So you'll have to decide about those rumors for yourself.

That black stairway just west of MacDougal: descend. When you're in, don't get disoriented. That's the Infinity Room. It doesn't really go on forever (though color-changing LED mirrors everywhere do give that impression). Now you've got a choice. Go left, and yes, there's a cocktail bar... with no seats. It's a drink-and-then-whatever-the-hell-you-want situation. Go right, and you're on the circular dance floor—disco ball, banquettes where the champagne floweth, a DJ who seems to be reading your mind and yet another bar.

It's like they think you want to drink or something.