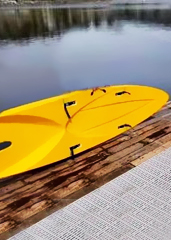 Paddleboarding. Sure, you get it. It's great exercise. It's on the water. And it's oh-so-Hawaiian.
It's also a great way to destroy your car, your garage, your living room or anywhere else you need to put all 11 feet of the damn thing.
Wouldn't you know it, like a cross between Einstein and Magnum, P.I., someone's solved that problem.
Introducing the
Origami Paddler,
a board designed to make the portage portion of your paddleboarding excursion a lot easier, taking preorders now.
Simply put, this is a paddleboard that transports about as easily as an inner tube and folds up like a wallet.
Once it's safely in your possession, you'll head down to the Georgetown waterfront and assemble this thing like an aquatic Batman—unfolding it flat and locking it with the tightening strap (no aquatic Alfred required). Then, you'll set out on the Potomac for a bit of exercise coupled with slaloming past the kayakers, the canoeists and the odd Coast Guard vessel.
Or just set out for the National Mall. We hear the Reflecting Pool is poised to open again soon.
And nothing aids your escape from the Park Police like a collapsible paddleboard.