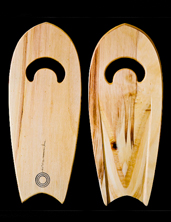 Take a glance at your hands. Tell us what you see.
If you answered "fingers, palms and nails," you're not wrong, but you're also not right.
The answer we're actually looking for...
"Something to surf a seven-foot wave on."
Introducing
Hess Handplanes
, a pair of mini wooden surfboards that... well... go on your hands, available now.
This looks like the sort of thing Mr. Miyagi would have given Daniel-san when he was teaching him to do karate/house chores. Part floor sander, part surfboard.
Each stick comes courtesy of Danny Hess. He's the industry go-to guy for surfboard construction (think: Bob Vila, but with a better tan). He's crafted each of these mini boards with poplar and redwood and then sealed them using his own special linseed oil. They come in four sizes and four styles, and have names like "Moon Tail," "Wing Swallow" and "Johnny Utah." (One of those is a lie.)
So when you're out bodysurfing this summer, you'll whip out these slick wooden boards, grip the inner grooves and ride the waves propped up on your hands like some sort of mythical ocean deity. Or circus performer.
The benefits: more glide, more speed and the ability to actually push your body up through the crest of a wave and ride inside it.
Hey, we've all got to die sometime.