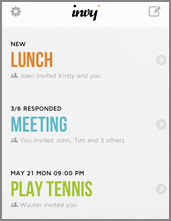 You treasure those well-thought-out, perfectly planned, expertly executed weekend get-togethers with friends.
As long as your personal assistant does all the work for you, that is.
But what to do when said assistant is on a well-planned, efficiently executed holiday in Venezuela becomes the question.
And now, the answer:
Invy
, a super-simple, easily integrated event-planning app for your iPhone, available now.
So let's say you've decided to alert a pile of pals to what could be the last annual lake house trip before you sell it. Dates are suggested. Then, chaos ensues via 10,000 emails, along with frustrated and thinly veiled snarky commentary about the dates selected by all parties involved. (New rule: anything past two responses and your friend forfeits a bed.)
Well, this sorta takes all that, wipes it off the board and makes everything better. It uses your phone's contact book to find who to invite (or who not to invite), and then those people can select which date they prefer, either through the app or the Invy website. Once everyone has responded, you pick the date that works best, and everyone is told where to be and when. And it's all auto-synced with your phone's calendar.
Note: this is probably not an effective first-date scheduler/manager.