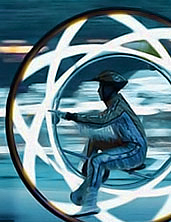 Approximately 8000 BC:
Some caveman invents the wheel.
1817:
Some guy puts wheels on a bike for the first time.
Late 19th Century:
Some other guy puts a bike inside a wheel for the first time.
This exact second:
You begin down a path that ends with you rolling around inside a giant wheel all summer.
Allow us to present
Monovelo
, a pedal-powered vehicle that's basically like an inside-out unicycle, available now through
email orders
.
Imagine a human-sized hamster wheel. Good. Now, imagine yourself driving that to work every day. You: sit in the middle. Gigantic wheel: goes all around you. Pedals, at your feet. Steering bar, by your hands. Life, flashing before your eyes.
The closest comparison to riding one would probably be surfing. But, you know, on asphalt. Requirements include: tremendous balance, a great bike helmet, a lack of shame and—if you're interested in the version that comes surrounded by blue LED lights—$1,990.
But before you make plans to take a cross-country road trip inside a humongous tire this July, there's something you need to know. These things aren't exactly street-legal yet. Which means, for the time being, you'll need to keep them confined to parks or driveways or backyards or circus tents...
That's what we call a blessing in disguise.