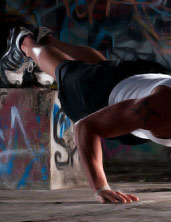 You've been challenged to a duel.
You walk 10 paces. You take a deep breath, turn around in what feels like slow motion... and then start banging out a bunch of lightning-fast push-ups.
Fitness in LA is getting a little intense these days...
Take a look at
Fitocracy Duels
, a new way to use your phone to directly challenge somebody to a feat of athleticism—available now.
You might already be familiar with the Fitocracy app, which turns working out into a sort of group sport—you earn points for your bench-press, points for running some miles, points for vigorous martini-shaking. Or at least points for some of those things. It's like a game.
Anyway, now things are getting seriously competitive. If you've attained "Hero" status in the app (heroism: now available for a small monthly fee), you can challenge any of your Fitocracy friends to a duel—only instead of pistols, it's a push-up contest. Or maybe you want to see who can run the farthest on your lunch break. The idea is to use the spirit of healthy competition to help you attain true summer-body greatness.
Again.