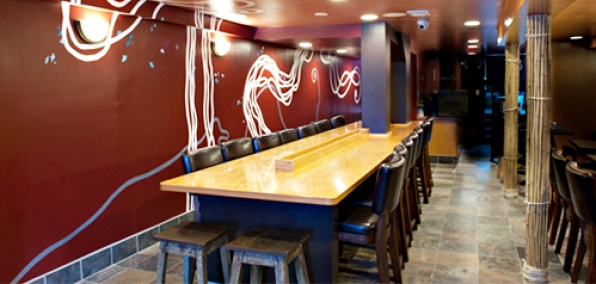 Take your average underground Tokyo ramen house. You need a system of codes and keys just to find it, and a password at the door.

Now take your average Adams Morgan ramen house. Which should be easy because there's only one.

It's called Sakuramen, it opens Tuesday, and what it lacks in secrecy, it makes up for by being literally underground.

This is the kind of inconspicuous downstairs hideaway—low ceilings, bamboo columns, wall-sized murals—where you'll want to steel yourself for the night ahead with a big steaming bowl of comfort food.

Sure, you could take a seat at the long banquette along the wall, but the gravitational pull of the communal oak table will be tough to resist, even if you didn't come in with 20 friends.

Once settled in, you'll choose from about seven ramens, from traditional Japanese-style miso-pork to Korean-influenced kimchi-beef to vegetarian seaweed-based broths—the better to dip your housemade seared dumplings and beef bulgogi buns.

Now, to be fair, they haven't got all the pieces in place quite yet, but they may stay open late-night within a few weeks. And further off than that, they plan to debut an L-shaped bar at the entrance, to go along with a liquor license that will let them top off your ramen with beer and sake.

If for some reason you want that.