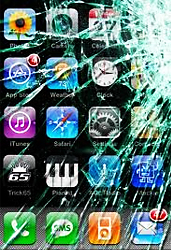 There are certain things that'll never die.
Rock and roll.
Clint Eastwood.
Man's appreciation for queso.
And as of today, your phone.
Yup, that sucker is now a golden god.
Meet
iRepairDoc
, a miracle-working repair service that brings broken iPhones back from the dead in less than 24 hours, available now.
Okay, so you've just destroyed your cell phone (dropped it, spilled coffee on it, confused it with a football and spiked it). If you know how to ship a package and apply postage, no worries, you're covered.
All you need to do: jump on iRepairDoc's site, select your iPhone model, outline the symptoms (screen won't turn on/it's in 13 pieces) and place it in the mail. What happens next: voodoo.
See, not only are they going to make your phone good as new again, but they'll send it back to any location you desire within a single business day (as long as it has an address and is located on earth).
Oh, and if the "dropping the busted phone in the mail" part is too difficult, they'll have a Smart car pickup service starting in Dallas later this year.
It's like an ambulance. For phones.