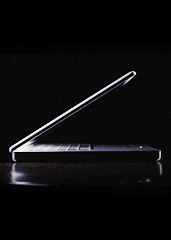 There's an art to making great music.
Typically, it involves a guitar, some form of personal tragedy, a pinch of LSD, a Penny Lane type, a wah-wah pedal, whiskey, tambourines and leather pants.
Also, there's an art to collecting great music.
Typically, it involves... well, actually, all it really involves now is a webcam and a stack of CDs.
Presenting
Covify
, a musically intuitive website that uses album covers to identify and archive songs into your Spotify account, in beta now.
Think of this as the fastest, most efficient, most Skype-like way to organize your streaming music in Spotify. All you need to do is find a CD (check the back of your closet), hold it in front of your computer's webcam and let Covify do its thing. Which, in this case, means immediately identifying the album and uploading all of its tracks into your personal Spotify library.
So a couple weeks from now, there's going to be a barbecue. In a backyard. With a life-size replica of the Lincoln Memorial made out of coleslaw (your neighbor, the artist). Guests will expect music. Time will be of the essence. Thankfully, you'll have this/a dusty stack of CDs from the summer of '97.
And coming soon, their iPhone app. It's in beta now, but once it's released, you'll be able to pick up an album anywhere and scan in all of its content.
Ski mask not required.