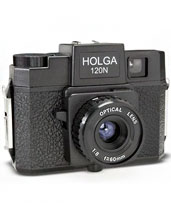 Digital pictures are dangerous.
Fact.
(See: numerous starlets, numerous congressmen and your Instagram account between the hours of 3 and 4am last Saturday.)
So realistically, you have two options.
1. Throw your iPhone down a well.
2. Invest in a 35mm super-wide lens with the type of film that can't be instantly uploaded to the Internet.
We trust you'll choose wisely.
Here to assist in your major camera-related life decisions:
Four Corner Store
, a photography-obsessed shop that sells all things picture-taking-related, online now.
Meet Nic. He's a documentary photographer who happens to know more than any human should about cameras (yes, he's a big hit at parties). He also happens to be the chief proprietor of this online shop and the man you'll want to go to anytime you need a camera that looks like it came from your uncle's attic, circa 1980s (Halloween costume or Niagara Falls vacation, perhaps).
If you're familiar with the world of toy cameras, just browse the site, find a rare Holga 120 Pan Super Wide that works for you and purchase. If not, no worries. Nic is more than happy to help with anything from selecting the right film rolls to assembling a proper darkroom to disguising your iPhone with a vintage-looking camera case and neck strap.
The European-tourist look is going to be huge this summer.