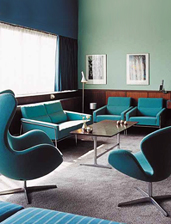 Summer travel plans. You've got 'em. Which makes this a good time to talk about your souvenir game.
Mini Eiffel Towers: sure. The occasional Hummel for Mom: why not. One-off Victorian bathtubs...
You're gonna need a bigger suitcase.
Or
Discover & Deliver
, a crack squad of interior design detectives who'll comb the world over to furnish your living room with one-of-a-kind hotel furniture, online now.
Think of this as Craigslist's Missed Connections for hotel furnishings (and minus the mild possibility of meeting a serial killer). Regal throne chairs in London. Silk bedsheets recalling naps of passion in São Paulo. Lamps. Lot of lamps.
Here's how it works: say you're tearing through East Asia with a traveling production of
Stripes: The Musical
when you fall in love with a tall, slender... antique pine ladder in the lobby of the Hong Kong Peninsula. Send these people a photo of said ladder, and they'll turn over all of Asia until they find the master carpenter who made it... and convince him to do the same for you. In a couple of weeks, an original version will arrive at your door—and life-size Chutes and Ladders will never be the same.
Finally, to tie your increasingly weird game room together, you'll scan their online shop for items plucked from film and television sets. Think: the teak armchair from Don Draper's office.
You've been gunning for that thing since season one.